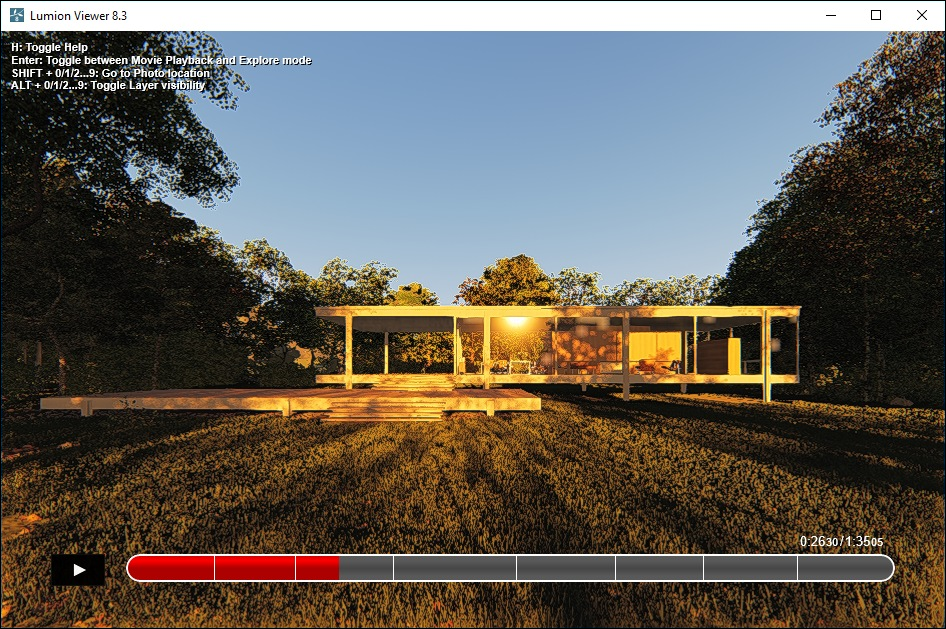 1. Available Lumion Viewer versions
| | | |
| --- | --- | --- |
| Lumion 9.5 Viewer | 18 June, 2019 | The download link is available in the Getting started with Lumion 9.5 Pro email. |
| Lumion 9.3.1 Viewer | 4 April, 2019 | The download link is available in the Getting started with Lumion 9.3.1 Pro email. |
| Lumion 9.3 Viewer | Not available | Lumion 9.3 Viewer is not available. |
| Lumion 9.0 Viewer | 29 November, 2018 | The download link is available in the Getting started with Lumion 9.0.2 Pro or Lumion 9.0 Pro email. |
| Lumion 8.5 Viewer | Not available | Lumion 8.5 Viewer is not available. However, you can open .LS8 Scene files from Lumion 8.5 Pro in Lumion 8.3 Viewer. The download link is available in the Getting started with Lumion 8.5 Pro email. |
| Lumion 8.3 Viewer | 27 March, 2018 | The download link is available in the Getting started with Lumion 8.5 Pro or Lumion 8.3 Pro email. |
| Lumion 7.5 Viewer | 10 July, 2017 | The download link is available in the Getting started with Lumion 7.5 Pro email. |
| Lumion 7.3 Viewer | 5 June, 2017 | The download link is available in the Getting started with Lumion 7.3 Pro email. |
| Lumion 7.0.1 Viewer | 1 December, 2016 | The download link is available in the Getting started with Lumion 7.0.1 Pro email. |
| Lumion 6.5.1 | 28 June, 2016 | The download link is available in the Getting started with Lumion 6.5.1 Pro email. |
If you cannot find the email or the link in the email, please follow the instructions in step 3.1 below.
2. Requirements
The Lumion Viewer is an optional installation.
It is only available as a download link in the 'Getting started with Lumion Pro' email for Lumion Pro license holders.
It is not available for Lumion Pro Student license holders.
Lumion Viewer is only needed if you want to send a project to a client and give them the unique ability to see and fly through the model in Lumion's real-time 3D.
To forward the Download Manager link for Lumion Viewer to your clients, please right-click on the download link in the 'Getting started with Lumion Pro' email and paste the link into an email to the desired recipient(s).
Please also remember these important details:
The Lumion Viewer can only open scenes made in Lumion Pro.
To ensure the best viewing experience, the client will need a PC with the same (or better) specifications as the PC you are using to run Lumion.
The client must also install the latest graphics card driver and all available Windows updates.
3. Downloading Lumion Viewer
The Download Manager link is available in the Getting started with Lumion Pro email which is sent automatically when you purchase a Lumion Pro license - or when a free update is released.
3.1: Please follow the instructions below if you can't find the email:
3.2: If you experience any problems while running the Download Manager for Lumion Viewer, please read this article: