1. Latest download links
2. Uninstall steps before installing the latest version
 

2.1: Quit ArchiCAD.
 
2.2: Remove all Lumion .APX files from the ArchiCAD Add-Ons folder:

Installation drive and folder\ArchiCAD (Version)\Add-Ons\
Default location:
C:\Program Files\GRAPHISOFT\ArchiCAD (Version)\Add-Ons\

 
2.3: Unzip and move the .APX file to the ArchiCAD Add-Ons folder and start ArchiCAD.
3. Older download links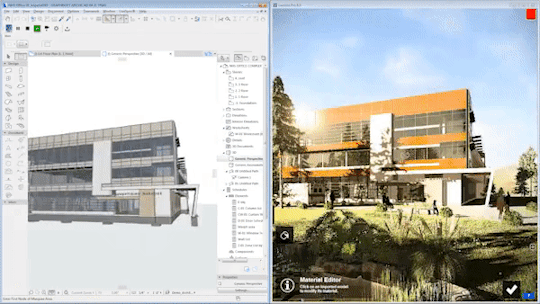 4. ArchiCAD in the context of the real-world. Model your design in its future environment.
The Lumion LiveSync for ArchiCAD plug-in includes two features — LiveSync and a Collada (.DAE) exporter. Now, you can view and change your ArchiCAD model in real-time in Lumion, as well as export a Collada (.DAE) file from ArchiCAD and import (or re-import) it seamlessly into Lumion.
You will need Lumion 8.3 (or above) and ArchiCAD 21 (or above) to use the LiveSync functionality.
Lumion LiveSync for ArchiCAD
Immediately set up a live, real-time visualization between ArchiCAD and Lumion. Change the ArchiCAD model's shape and you'll see these changes taking place, in real-time, in Lumion's breathtaking, lifelike environment.
As you continue modeling in ArchiCAD, you can simultaneously view your project in Lumion surrounded by an immersive, fully featured landscape (mountains, water, grass). Beautiful materials make the design 'pop', while photo-realistic lighting suddenly heightens your sense of environment, realism and depth.
Real-time materials synchronization
Instantly breathe life into your synced ArchiCAD model by applying any of Lumion's 1000+ high-definition materials in the Lumion editor. As you continue to develop the design, you can tweak the materials exactly to your liking and then save your material layouts for future rendering.
Live point-of-view synchronization
LiveSync now enables live point-of-view synchronization. Turn it on and immediately adopt the ArchiCAD camera perspective, making your work easier, faster and more enjoyable.
Automatic model imports
When establishing the LiveSync connection, Lumion will automatically import your ArchiCAD model. Continue working on and modifying your project even after you turn off LiveSync, and easily save the file as an .LS for future rendering or development.
See also:
Knowledge Base: Model import guidelines for ArchiCAD
Knowledge Base: How does LiveSync 3 work with existing imported models in Lumion scenes?